VRAINS: How to Link Summon!
Published on September 22nd, 2022 by
Updated on September 22nd, 2022
Introduction

Hello and welcome Duel Links Meta Fans, my name is

VRAINS World

coming to Yu-Gi-Oh! Duel Links at the end of September 2022, many Duel Links players, new and old, will be introduced to Link Summoning for the first time. Now while some of you are versed in all summoning methods, some of you may have the question: "What is a Link Summon and how do I do one?" This is the question I hope to answer today.
---
What Is a Link Monster?

As always, we will start by taking a look at a Link Monster and see what they're all about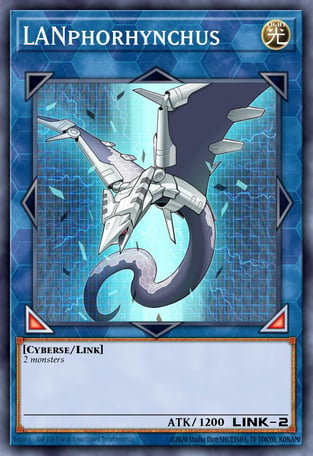 Link Monsters are Blue Cards that are Summoned from the Extra Deck. Like all monsters, they have Names, Types, Attributes, and ATK Points. However, they do not have Levels, Ranks or DEF points, instead having a Link Rating in the bottom right-hand corner (we will get into what Link Rating is in just a second). This means that Link Monsters cannot be Summoned in DEF Position or Changed to face-up or face-down Defense Position. They also have arrows surrounding the Card Art, known as Link Arrows. These Link Arrows are important because you can only Link Summon to the Extra Monster Zone (added in the latest update) or a Main Monster Zone a Link Arrow points to (as an aside, these rules are also true for Pendulum Summons from the Extra Deck).
Now before we get too into it, let's go over how to actually Link Summon.
---
How to Link Summon

Now that we have a general idea on what a Link Monster is, we will go over how to Link Summon. Now Link Summoning is most similar to Synchro Summoning, as Link Summoning requires you to send face-up monsters to the Graveyard as Link Material to Summon a Link Monster. For a simple example, let's go back to Loading... .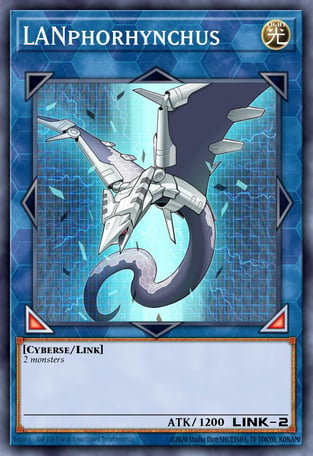 Loading... is a LINK-2 Monster (this means it has a Link Rating of 2), and if you take a look at its Summon Material, all you need to Summon LANphorhynchus is 2 monsters. This means that to Link Summon LANphorhynchus you just need to send any two monsters you control to the Graveyard as Link Material (similar to a Synchro Summon, but in this case you don't need to meet any Level requirements). The amount of material required corresponds to the Link Monsters Link Rating. Simple enough right? However, before we can definitively say we know how to Link Summon, we need to go over a monster with a higher Link Rating: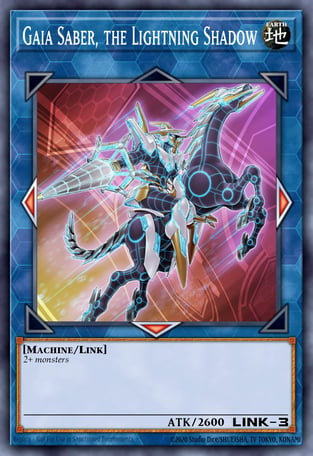 Now take a look at Loading... here. It's functionally quite similar to Loading... , but if you take a look at the number on the bottom right, it has a Link Rating of 3. This means you must have three Link Material to Link Summon Gaia Saber from the Extra Deck. However, if you take a look at its Summon Requirements, Gaia Saber requires "2+ Monsters", but how can you Summon a Link-3 Monster (that we've established requires three Link Material) with only two monsters? To answer this question, we must clarify that to Link Summon a monster, you only need a combined Link Rating equal to the Link Rating on the bottom right of the card (as long as the Link Material also fulfills the Summon Requirements at the top of the text Box). This means while you can Link Summon Gaia Saber with any three monsters (each monster counting for 1 Link Rating), you can also Link Summon Gaia Saber using a LINK-2 monster (which has a Link Rating of 2) and one other monster (which adds to the Link Rating of 2 for a Total of Three). This means you can use Loading... and something like a Loading... to Link Summon Loading... ! The same is True for Link-4 and higher monsters (again, as long as you're abiding by its summon requirements at the top of its Text Box).